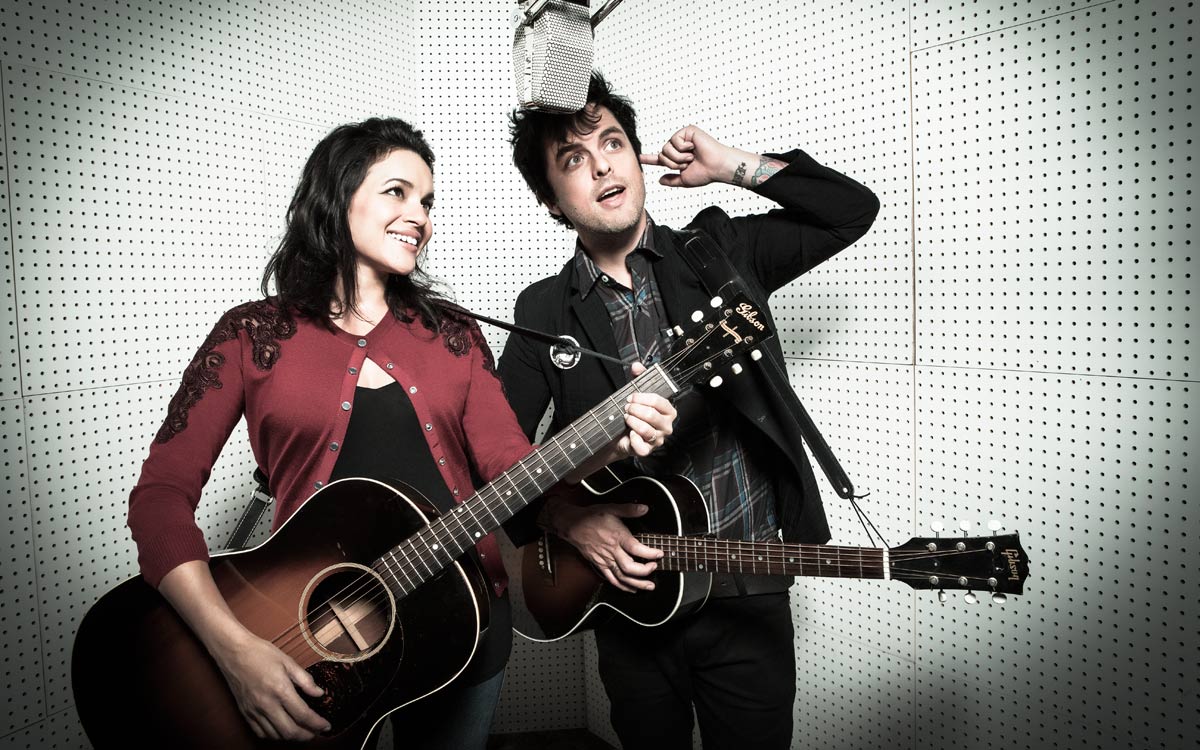 4/5
Songs Their Everly Taught Them
.
When it comes to the biggest male and female singer/songwriters in modern music of the moment it doesn't get much bigger than this new perfect partnership. The dynamic duo of Billie Joe Armstrong and Norah Jones is the latest strange but sublime setup in music in a Jay-Z and Linkin Park mash-up age. Even this year cult hip-hop band The Roots backed a Liverpool rock and roll legend not part of the fab four as Elvis Costello released
'Wake Up Ghost
' with Jimmy Fallon's house band. Billie Joe turned him and his band into modern day geniuses as
'American Idiot'
took the '
Dookie
' stoner rockers Green Day to a whole new world of an audience and even on Broadway as they set the stage for themselves from being one of the biggest bands in the world. While those looking for a female singer/songwriter chasing the legendary leading men likes of icon Bruce Springsteen and modern marvel Ben Harper, need look no further than Miss Jones. After the jazzy, easy-listening and top selling classic starter albums of
'Come Away With Me', 'Feels Like Home'
and
'Not Too Late'
, Norah went deeper and darker for
'The Fall'
and the perfect piece of the electric, eclectic '
Little Broken Hearts
'. She even provided a backing soundtrack for Danger Mouse and Daniele Lupi's soaring '
Rome
' score with White Stripe, Raconteur and Dead Weather setter Jack White. Last year saw the ever hard-working, underrated leading lady recorded
'For The Good Times'
with her Willie Nelson inspired country outfit The Little Willies. Now she's going a little bit country with her rock and roll man for
'Foreverly'
.
When it comes to country duos, it doesn't get much bigger than the family bond of The Everly Brothers. The steel strong rock and roll singers moved in perfect harmony and their Hall Of Fame baritone and tenor style influenced The Beach Boys, Simon & Garfunkel and even the greatest rock and roll influences of all time The Beatles. They've clearly inspired this generations greats too, as Billie Joe and Norah team up for their own inspired interpretation of the classic album
'Songs Our Daddy Taught Us',
step by step, melody by melody, track by track. The second stellar album from the unit was exactly what it said on the jewel case. A selection of songs the boys learnt from father Everly and now the next generations is having their go on these hand me downs hoping to keep this classic album going forever for Everly. An album of songs so well wrote, taught, sang and passed on that Rolling Stone called it something so 'rootsy' that the king himself Elvis Presley wouldn't have "the nerve to do it". So ahead of it's time and now so lamented with now's nostalgic love, these traditional songs aren't given a modern face-lift, but instead a today tweak to show this watered down modern mainstream searching for real music, just how genuinely great it was in the good old days. Even if some see a covers album as easy work, you'd be hard-pressed to find any musicians putting in the recording grind to keep great rock and roll music with the roots of their country alive than Jones and Armstrong. Even if not everyone will lend their ears, check out the lyric video of the lead single
'Long Time Gone'
to see just how classic these countrymen are. "
You cheated me and left me lonely/I tried to be your very own/There'll be a day you'll want me only/But when I leave, I'll be a long time gone"
, when it comes to the blues of break up songs, nothing is more brutal and beautiful in bold brushstrokes than this. As this new country couple play homage in harmony to the original duo, this song and it's lyrics are brought to life with as much subtle vibrancy as the original.
Such is life for the rest of the album too and the sublime, sophomore single,
'Silver Haired Daddy Of Mine
', a song that has been covered many times and is so legendary in it's old testament to traditional lore that it will never grow old and grey, just rocked and rolled. With the energetic entrance to this set of the
'Roving Gambler
', Jones and Joe prove that all bets are paid off with a first roll that hits the deck, ready for you iPod dock to rock. The electric
'Lightening Express
' sees the maturing voice of Billie meet the smoldering Norah for a smooth and smokey journey across the right side of the tracks. One that blooms into funeral flowers with the dark murder-ballad
'Down In The Willow Garden'
, where Jones truly takes the apple. The one-time sweet singer is seriously sultry too and can cover anything from Dolly Parton's classic '
Jolene
' (with her own friend Jack White like conviction (it doesn't get bolder than this guys singing and owning a girls song)) to her own revenge classic '
Miriam'
. Even Nick Cave and the Bad Seeds have laid planted roots here and as Jones sings along
"for I did murder that dear little girl",
you know this is one woman you don't want to mess with. The Cinderella of real popular music fits perfectly with her American icon partner on '
Whose Gonna Shoe Your Pretty Little Feet'
, where the pair prove that it's the traditional songs that carry the best meaning and their the ones that today can make it so much more. It's Billie Joe's recruiting of a female voice, and that voice being Norah's that gives these brothers records the new creative interpretation with a dynamic kick it deserves. You can't beat the classics and the good ole days keep rolling on the timeless '
Oh So Man Years',
before the country strong
'Barbra Allen'
is given new personification by this pair. This folk song originating from Great Britain concerns a young man dying at his bedside for the love of this muse. Although he loses her and life, Billie Joe has found his musical muse and perfect instrumental partner in Miss Jones.
'
Rockin' Alone (In An Old Rockin' Chair)'
will swing back and forth and remain as classic and American as buckwheat for ages and ages to come and sit and listen. As will the bond of
'I'm Here To Get My Baby Out Of Jail'
a true love bar to fist strong love song that the '
Foreverly
' duo bails out with good behavior and a warrant of inspired instrumentation and velvet smooth vocals that lay over these bars. The state of the iconic '
Kentucky
' really is an album favorite and as of right now and poignantly perfect track for this writer. Over feathered drums the pair harmonize with the beautiful landscape, singing
"Kentucky/you are the dearest land outside of heaven to me"
which couldn't speak higher for the sincere and country strong state. Keeping this album charging forward like a glorious, galloping horse, this powered ballad laments and lasts everywhere from classic Corbin to loving Lexington. Finally singing
"Kentucky, I will be coming soon"
, this town and my love that resides there need to hear just how much this all means right now. The pair evoke even more with the albums goodnight in '
Put My Little Shoe Away'
with another ode to the old. A time where song names and styles where simple but the themes and meanings delved deeper into the roots of these country classics. Roots that made these brothers and also highwaymen like Nelson and Johnny Cash so legendary. They'd all be so proud of these two American icons of the modern age that have earned their country spurs with their clicking collaboration. It all started with a sing-a-long meet-up at a Stevie Wonder concert and now this gig shows just how much more soul they have. Isn't it "loverly". For Everly, forever more, '
Forveverly
' will remain just like those songs from the brothers father, in everyone's hearts and minds, thanks to those of Norah Jones and Billie Joe Armstrong. These traditional songs will go on forever and Everly.
TIM DAVID HARVEY.