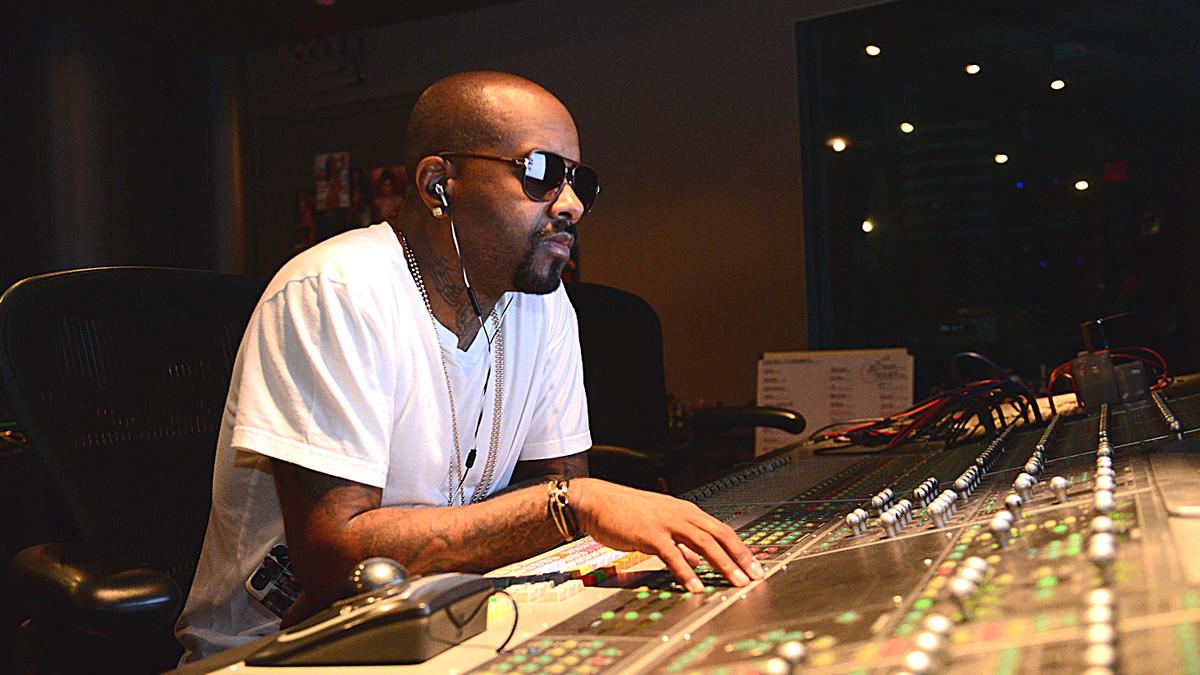 A Round With J.D.
By TIM DAVID HARVEY
C.E.O. Producer. Rapper. D.J. Social Media Entrepreneur? Music mogul Jermaine Dupri is one of this generations most influential people in the entertainment industry. So much so the King of Atlanta is even giving New York Cities Diddy a run for his billion dollar money and enterprise. J.D's iconic record label So So Def may just be the Southern equivalent of Bad Boy Records. Yet the Don Chi Chi is his own man and the creative force has gone beyond producing just for the careers he made of his own homegrown artists like Kriss Kross, Da Brat, Jagged Edge and Bow Wow, but to superstars he helped re-make like Mariah Carey, Usher and Janet Jackson. Jermaine has also proved himself worthy of his own beats and the production of classic albums like Usher's 'Confessions' and Mariah Carey's 'Emancipation Of Mimi', releasing records like 'Life In 1472' and 'Instructions' featuring classics like 'Money 'Aint A Thing' featuring Jay-Z and 'Welcome To Atlanta' featuring Ludacris. Although these timeless tracks still spin today, Dupri is dropping the needle on all sorts of classics in the clubs, all the way to the groove of winning the award for 'Celebrity D.J. Of The Year' this past calendar. If that wasn't enough than the man who has been inspired by hip-hops best to be hip-hops best is now taking influence from the likes Of Mark Zuckerberg by creating his own, unique social media site and experience Global 14. Showcasing not just news and entertainment, but the chance for new artists to share their work and talent. With more developments and even some more music on the way it seems like 2015 is the year Jermaine Dupri takes over the world. Time for him to tell us why...
Jermaine we thank you for your time. We know you're a busy man so we'll get right to it. What's on the schedule this week?
A lot of meetings. A Revolt live taping to drop off my new video, Vegas D.J. performance on Thursday then Friday fly to Atlantic City.
You've just released 'Where You At' amongst other great songs recently. What can you tell us about this material and as a rapper do you feel in the zone again? Can we expect another album soon?
As a music creator, I'm in a great headspace. I wouldn't say I'm in my zone just yet. The music from my new album will reflect how I feel. I feel like everything I've done people always bash it, then three to four months later they do it. With that being said, I got to keep the forward motion that I've always had. There's records with artists that might not be big yet but I believe in them and all the records on this new album will be for the club.
You are also busy on the D.J. and nightclub circuit. Congratulations on winning the 'Celebrity D.J. Of The Year' award. How much does that mean to you, especially with the legacy of some of your peers?
I'm happy I won but I don't care to be called a celebrity DJ. I've been doing this before people knew who I was. It means a lot, but it would mean more to me, if more people knew my true passion for D.J.ing.
Night in and night out what tips could you give to young aspiring record spinners in keeping the crowd and the atmosphere of a club moving?
If you're playing open format, gauge the crowd. Once you get them dancing and having a good time, figure out what you did and hold on to it for as long as you can (laughs).
How does dropping a great beat in the club compare to producing one in the studio?
I would say it's about 60/40, very close. The only difference is, when I DJ they are not all my records.
Are record stores still the best place to get your hands on some precious vinyl as opposed to online?
Totally!
After bringing Bruno Mars out on New Year at the peak of his 'Uptown Funk' popularity in Vegas do you have something up your sleeve for this December 31st? It's creeping up on us.
Nah I haven't really thought about it. I guess I need to start thinking (laughs).
As a rapper, producer, CEO and D.J. you're a man of many hats but your passion project seems to be your website Global 14. What can you tell us about this movement?
I believe that kids of today are not interested in traditional news and the old ways that we got our information. So I created a destination that would speak to them in a way that they wanna listen and a home for the dream chasers. I have so much passion for this because the ideas are endless, if you can think of it, it can be done when dealing with tech.
What in your mind sets Global 14 apart from the rest of social media for its users?
Me!
Going back to music, congratulations on the Jagged Edge sequel record. How did it feel revisiting a classic with four guys from Atlanta who you've been down with since the beginning?
It was great working on that record. It felt like the days of me trying to get in the business. That's a feeling I hadn't felt in along time.
Can you share with us any other projects you're producing at the moment?
I'm in heavy with the new Usher album. I got a group coming out called "The D", the new Bow Wow album and mine 'The Love Award'.
You're beats have given new life to artists like Usher, Mariah Carey and Janet Jackson among countless others, can you share with us some of your favourite experiences and relationships in music?
They all have been great experiences, each with different characteristics. I'm just grateful I could be attached to such great artists.
What sets your constant collaboraters and you're in house talent like Da Brat, Bow Wow and J.E. apart from the rest?
Our connection. I have a special connection with each artist I sign.
Who do you like in todays music industry and who inspires you?
Both Drake and The Weeknd are inspiring because it seems like they keep the first thing that comes to their mind and as a writer. I usual go through three to four ideas before I find it. They make me think I'm over thinking (laughs).
If we where to list just a handful of our favourite tracks you've produced could you share your favourite memories and experiences from these classics?
Sweetheart...
'Sweetheart' was actually Mariah's idea. So it was dope, hearing her tell me that was the song she thought we should do. That meant she put thought into my album.
Money Ain't A Thing...
'Money Ain't A Thang' was the last time I used paper to write after being in the studio with Jay-Z (laughs).
Welcome To Atlanta...
'Welcome to Atlanta' was so automatic . I got the idea for it to with Luda from a floor mat he had in his video. I told him the idea and it all just fell in place.
Hate Blood...
Hate in your blood was a perfect example of how I hear and see things in my head. Very seldom do I get all the voices I hear when I'm writing and this was the first time.
Lets Get Married and the other Remarqable Remixes'..
Honestly 'Lets Get Married' remix I give to the hands of the music God's because I still can't believe how perfect it was.
We Belong Together...
'We Belong Together' was a perfect example of when collaborators really gel.
Control Myself...
'Control Myself' I loved!! It felt like classic LL with a splash of J-Lo.
The 'Comin From Where I'm From' album with Anthony Hamilton and how it changed soul music...
I'm not really sure it changed soul music. It was a incredible album though and the first were I heard the demo and put that out.
Confessions...
Confessions...some of my greatest work!
It must be incredible to have your name and stamp on so many hit records and classics? Can you describe?
It should be incredible but I don't feel people care, so it takes the enjoyment out of it for me. I just go from one project to the next trying to figure out how to change that mindset.
And how did it feel to perform such a historic, classic track to the ATL music scene ('Welcome To Atlanta') with Ludacris at an Atlanta Hawks game when the team was soaring from the best in the season to the playoffs?
Oh that was incredible! That's like one of the only times I felt like the city really loved that song!
How important is it for this great city of Atlanta to have some great sports teams to root for and music to rock with?
It's really important. Sports and music go together.
Going back to your first album 'Life In 1472' its a classic concept album before its time. How important is it for people to make records with specific themes?
I think it's very important for more established artists because it allows us to go elsewhere with our writing at times and the fans not be confused.
'Instructions' is an underrated classic of feel-good, summer music rap. What does this album mean to you?
Nothing! There's a lot of mistakes I made on that record.
So So Def itself is an iconic record label, from the name and logo to the classics its produced. How does it feel to have such a legendary label that's on the level of a Bad Boy or Def Jam?
Once again I don't feel like it's looked at on the same level, so I feel I have so much more work to do.
Thirty plus years in the game, not bad for the kid who danced with Whodini. When you look back at this and all that's followed what's the first thing that comes to your mind?
Belief and no fear.
What's next for Jermaine Dupri...or should we say, music?
To work harder than the young Jermaine and out do him.
Jermaine we thank you for your time and consideration. It is much appreciated. We wish you all the best and every success for the future.