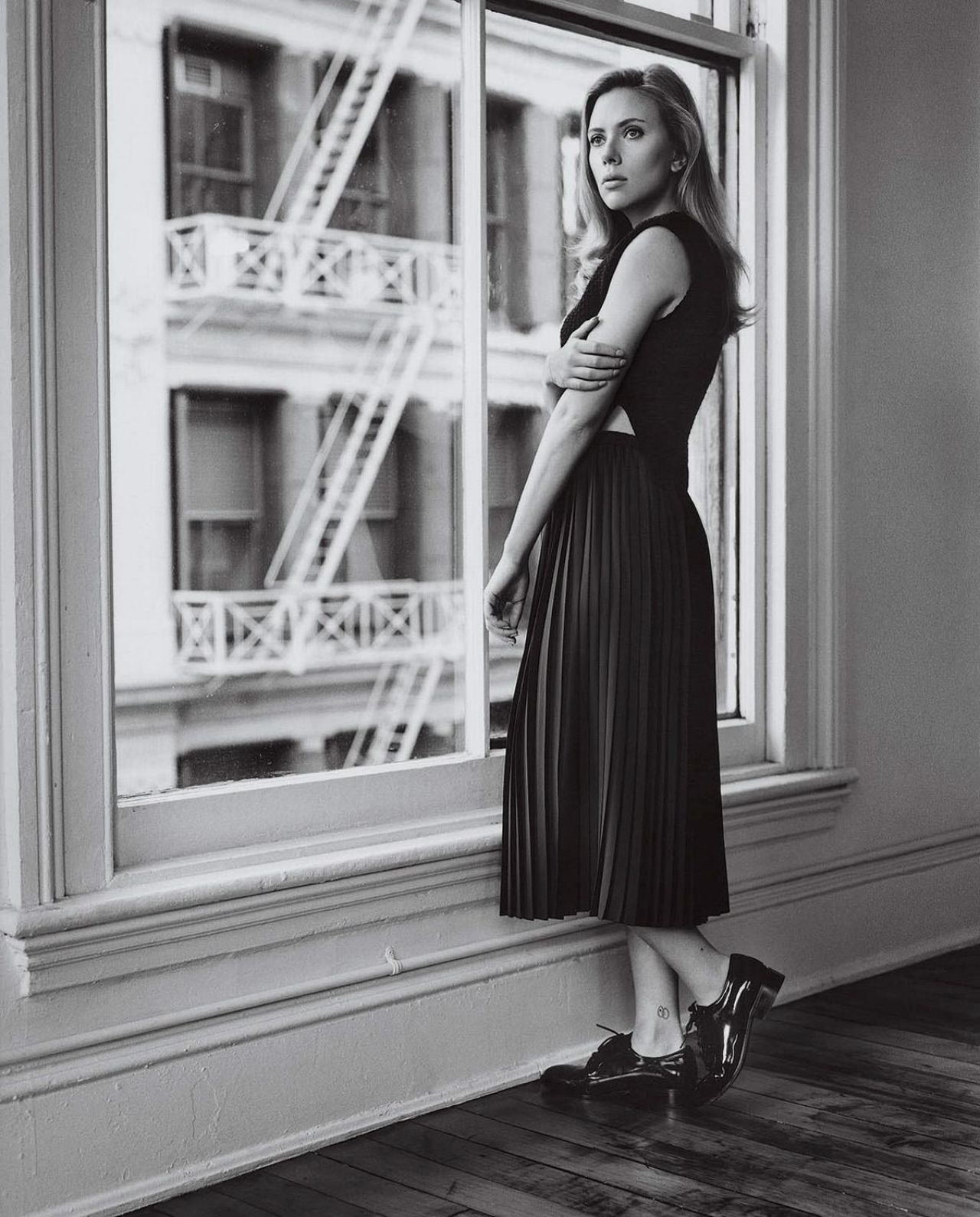 #SuperheroSeason
Widows Peak
By TIM DAVID HARVEY
In Scarlett's web, under the beautiful skin of one of Hollywood's hottest celebrities and women that could give Angelina Jolie a run for her make-up foundation is a superheroine that is also the best young actress talent around today not named Jennifer Lawrence. About to celebrate her 30th birthday with arguably her best year yet, it won't be long before
'Her'
herself, Scarlett Johansson will be Oscar's Academy favourite when it comes to the worlds best actresses like current best Cate Blanchett and the legend that is Meryl Streep, the Daniel-Day Lewis of Academy actresses. Right now the throwback to screen starlet's Scarlet is more than just a pretty face. The red hot talent of Johansson has more subtle acting skills and smarts that most wrongly ignore from critics to fans too busy looking at the wrong side of her performances but the best side of her face. Simply put the complex characters that she brings to stage and screen are all part of the no make-up, real and raw catalogue of modern movie cinematic classics that make her not only one of today's best, but most underrated talents in this entertainment industry. If you're still not convinced that this woman can do it all then just watch what she's been doing recentely, from saving the world as a super assassin to providing more bite as an alien posing as a normal woman in Glasgow of all places. Scarlett strolling around Scotland is nothing normal, but in this life less ordinary it doesn't matter because everyone is falling for her man killing sex and style appeal. Even Johnny Cash couldn't help from falling in love the first time he ever heard just her voice.
This model talent is more than just the studio time that keeps her gracing the pages of every magazine out there from the cover shoots to the perfume ads. The woman who appeared in superstar singer and sideshow actor Justin Timberlake's 'What
Goes Around...Come Around'
after Mandy Moore's
'Candy'
video is more than just a big name for a music video. She's the type to make music too. Just listen to her solo offering of Tom Waits covers in the
'Anywhere I Lay My Head'
album that is hauntingly smouldering and a beautifully evocative album with a cinematic feel, that her senses give us on the screens too. It's not just her
'Iron Men'
Avengers co-stars Robert Downey Jnr, Terrence Howard and Jeff Bridges who have had much better than critically advertised music releases. These albums for the record are something to marvel at just like Electo Jamie Foxx's eclectic career of high notes or all the other actors and actresses who have gone the opposite route of Sinatra straight to the studio, giving us something that is bigger than their Hollywood name...a real record for their career playlists. We hope Scarlett releases more shades from the studio, as her duet album with Pete Yorn (the underrated, top singer/songwriter of our day that could soon put himself next to the Ray LaMontagne's and Ryan Adams) was as chemistry classic as a White Stripe or Norah Jones (her smouldering sexy Miss Jones rivalling vocals have even teamed up with the late Dean Martin for a Christmas Rat Pack favourite) and Billie-Joe Armstrong of Green Days'
'Foreverly'
. The
'Break Up'
album and its real, huge hit
'Relator'
came together for a perfect songwriting concept and partnership and her sole outing on
'I Am The Cosmos'
just may be among this writers favourite songs...ever! Scarlett's a true artist when it comes to this genre too and give her as many projects and years as she's had acting and the multi-talented superstar may just prove she's one of mainstream musics underrated, female best too.
It all started for Scarlett however when she was 10 in
'North'
, that Elijah Wood film with the pink bunny. Two years later saw an Independent Spirit Award for her powerful performance in
'Manny & Lo'
, but something told us like a Leonardo DiCaprio before her or a Chloe Grace-Mortez now that she was going to be more than just another ageing child star for the Culkin culture.
'The Horse Whisperer'
echoed more of that before the new millennium saw her gallop and leap and grow and mature into the young woman and actress she was meant to be. This is when the 'Sexiest Woman Alive' became truly symbolic. The New York born and bred girl from Danish, Copenhagen and Jewish Bronx backgrounds is a very versatile and chameleon character. Much more so than the critics give her credit due for. Growing up with little money but more than a buffs share of movies, Scarlett lived and breathed cinema and its movie making backdrop home of New York City, even gravitating to Elementary school graduation in the famed Greenwich Village area of N.Y.C. home to cultural and artistic inspiration and every star that gets there's from this coffee house and guitar district like guys called Dylan. This is why there was
'Just Cause'
for this girl to play James Bond's daughter in a 1995 Sean Connery film
'If Lucy Fell'
before another
'Fall'
and another
'Home Alone'
(3) had Scarlett falling into success and leaving everyone else slapping the sides of their faces and wide mouths in child abandoned, aftershave applied shock. Good Scarlett is just that great, from her youth to adult performances that are more than just maturity...there mastery. Here's a girl that's offered a career most women decades her senior would die for...and she's got nothing now left but time thanks to all she's already put on the clock. You just have to hand it to her for all she's given to the movie world, even if most critics have their arms folded, they've embraced the films she's been in.
Just like after a river ran through a Robert Redford American classic about pretty horses, Johansson squealed through
'My Brother The Pig'
before linking up with the classic Cohen brothers for the bold
'The Man That Wasn't There'
. 2001 saw more praise for her perfect performance in the haunting
'Ghost World'
which showed the spirit of her sensitivity, acting style and as a result success. Then along came some spiders for some fun in
'Eight Legged Freaks'
...hey even George Clooney had to start with
'The Attack Of The Killer Tomatoes'
before his career sauce. Real growth and greatness came in 2003 via Sofia Coppola, Bill Murray and Japan for one of modern days greatest
'Lost In Translation'
. A friendship and love story tour-de-force through the navigating of the neons of classic city Tokyo in all its beautiful inspiration but lonely isolation for a young and old traveller both life and love weary. From the iconic and supremely sexy opening shot...yep it has to be said, to the charismatic and charming chemistry between the leading couple of Americans who find each other further East, it was no wonder Scarlett came home with a BAFTA as Murray permanently laid down the concrete foundation that his weird and wonderful style made him one of the greatest. It's a role like this-just shy of 20 years old-that saw Johansson leave her teens and tweens in more ways than one for an adult role that showed her amazing growth and range. Murray had to wait decades and generations before his greatest role, this generations best gave one of hers before her time. Who knows what she'll do in her already classic career catalogue by the time she's ironing out the
'Groundhog Day'
wrinkles. If Jennifer Lawrence is a young Meryl Streep, than Scarlett is the starlet throwback that centuries from now will be reminiscent and wished for like the Loren's and young Monroe's...and she deserves at least an Oscar by now.
The 18 year old continued the beyond her years growth with '
Girl with a Pearl Earring'
as she fast became the big and many movie hardest working actress she still is to this day. The presence of her husky voice and engrossing expressions made her a complex creator of her craft in more ways than just a singular sensation. Some
'Spongebob'
vocal booth appearances soaked up more work before the
'In Good Company'
comedy and the dark
'A Love Song For Bobby Long'
gave more box office receipts and critical praise receiving and singing for the screen siren. Alongside Ewan McGregor in Michael Bay's sci-fi
'The Island'
saw more blockbuster success for this all-round talent of all-films as did her service to Woody Allen's
'Match Point'.
The New York actress and director collaborated again with Australian Hugh Jackman for another
'Scoop'
, but it was the film-noir of
'The Black Dahlia'
that was a read all about it affair for Josh Harnett coming off his best
'Lucky Number Slevin'
with shades of
'L.A. Confidential'
, a lot of sex appeal, sinister secrecy and hush, hush. Things got really great however for Scarlett and her reunited screen partner Hugh Jackman for
'Dark Knight'
director Christopher Nolan's
'The Prestige'
, also starring Christian Bale. This was the
'Inception'
of Nolans best work as Wolverine duked it out trick for trick with Batman, as the Black Widow played the background. This powerful, period
'Prestige'
piece was true magic. A short film feature for Bob Dylan's
'Modern Times' ('When The Deal Goes Down'
) gave more rhyme to the reasoning that most of America artistic talent harks from the village of New York's Greenwich.
'The Nanny Diaries'
with Laura Linney and
'The Other Boleyn Girl'
with Natalie Portman showed more dynamic diversity alongside some of actings best. Still Scarlett's best was about to come out from the shade.
Her third curtain call with Woody saw her travel to Spain for
'Vicky Cristina Barcelona'
for another role that wouldn't be lost in translation in bold and beautiful Barcelona. The Frank Miller graphic novel noir of
'The Spirit'
also saw this stunning star throwback to the testament of the femme fatale she seemed destined to be born in a different era for. Although it was no
'Sin City'
it did show us that this is the true
'Dame To Kill For'
...now if only hey, because here's someone even better than Alba.
'He's Just Not Into You'
(which featured her covering Jeff Buckley's
'Last Goodbye'
beautifully on the soundtrack) became the latest fangirl favourite rom-com in 2009 but Scarlett was always meant for something with more meaning and that's why the sweet and sincere
'We Brought A Zoo'
is one of her most amazing and underrated attractions for all the family. She also starred as a victim of
'Psycho'
in the
'Hitchcock'
biopic starring Anthony Hopkins and Helen Mirren, enough to finally cement her star on the Hollywood Work Of Fame after all her years of great groundwork. The work that sees her hand to ass kicking, super S.H.I.E.L.D assassin Black Widow character (that from
'Iron Man 2'
to
'The Avengers'
films (featuring the
'Age Of Ultron'
sequel where she high-kicks whilst months pregnant in a catsuit...WOW!) sees her in almost as many Avenger flicks as Samuel L. Jackson's Nick Fury and is top of the Natalie Portman, Jaimie Alexander, Kat Dennings., Gwyneth Paltrow fanboy marvelling list) gives
'Captain America-The Winter Soldier'
her characters most complex and deeply dark turn yet, terrifically teaming up with Chris Evans for this years best superhero film. A year that sees Joaquin Phoenix fall in love with
'Her'
vocally for the Oscar worthy futuristic 'love APPtually' cautionary tale of modern day dating and love. A modern day run of 12 months or so that has shown this 'SIRIous' talent show Joseph Gordon-Levitt's
'Don Jon'
a real bubble gum popping, take no b.s. accented Jersey girl bigger than her off Broadway theatrical talents with Ethan Hawke and the on ones in
'Cat On A Hot Tin Roof'
. Now if you thought that was man eating just wait until she takes you round Scotland in a truck
'Under The Skin'
, between the black lingerie sensual and sexual, full frontal backdrop to the sinister made-up, wig and fur wearing alien that stalks and kills the men of Glasgow. Weird...yep! Wonderful...you're damn right. If you took this pick-up to the
'Thelma & Louise'
roads of Route 66 then you'd probably have another American classic on your hands, but here it's otherworldly like the Danish/American star herself whose about to cook up
'Chef'
and personify new love in
'Lucy'
. Scarlett Johansson, when you talk about her you're talking about an American classic heroine that's out of this world. Showing us once and for all that this Black Widows beauty is much more than just skin deep.